You can now subscribe and start our second Massive Open Online Course (MOOC) on Business Model Innovation for Sustainable Landscape Restoration. We developed this MOOC with our partners from the European Network for the Advancement of Business and Landscape Education (ENABLE).
The course is launched today, 14 February, and is open for all and free of charge. This is the second MOOC co-created by the ENABLE consortium members. It builds upon ENABLE's first MOOC, which offered comprehensive knowledge of landscape degradation and restoration from the perspectives of natural sciences, economics and business administration.
This new MOOC is transdisciplinary, designed for environmental and business students, professionals, as well as anyone with an interest in landscape
restoration based on sustainable business models. The course takes a partnership approach to take on the challenge of large-scale landscape restoration, reflecting the interconnectedness of ecology, society and economy in landscape management – supporting wellbeing of people and the planet.
This eight-week online course aims to equip learners with practical business tools to restore landscapes. In the course, participants are encouraged to go through the business model innovation process in small groups of their choice, based on a common interest. The course is designed in three phases that move the participants from ideas towards the succ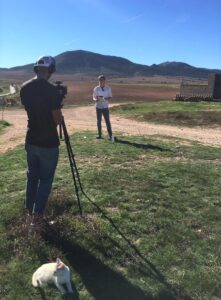 essful implementation of a new business model for sustainable landscape restoration based on four different returns: return of natural and social capital, return of inspiration and return of financial capital. Each step of the process is illustrated with three real-life cases of landscape restoration to show how the theory looks in practice. These cases are: a case about crop diversification and low input farming in Spain; a large-scale woodland restoration case in Iceland; and a case about the challenges of recovering from forest fires in Portugal.
Worsening land degradation caused by human activities is undermining the well-being of two-fifths of humanity, driving species extinctions and intensifying climate change (IPBES). But there's a huge potential for restoring landscapes: around two billion hectares of land, about two times the size of China, can be restored. This free online course aims to equip learners from environmental, business or other backgrounds with practical business tools to restore landscapes.
You can now start the course and work on solutions for landscape restoration – one of the biggest challenge of our time. For more information, watch the trailer and see the ENABLE website, and its Twitter, Facebook and LinkedIn pages. You can register for the course here.
ENABLE is a strategic partnership of organizations in the private, public and non-profit sector, and is co-funded by the Erasmu
s+ programme of the European Union. The partnership is led by Rotterdam School of Management, Erasmus University (RSM) and consists of the Spanish National Research Council (CEBAS-CSIC), Commonland, United Nations University Land Restoration Training Programme (UNU-LRT), and Nova School of Business and Economics.